When you're searching for hotels in Rehoboth Beach, we highly encourage guests not to use a third-party platform, also known as online travel agencies, for several reasons. When you book direct with Boardwalk Plaza Hotel, you'll not only receive a number of perks, and you'll be saving more despite what you read on those online travel agency ads. We've compiled a list of the top three reasons as to why direct booking will be the best option for you and your loved ones when it comes to traveling to Rehoboth Beach, Delaware!
1. Get the Best Rates
Here's a scenario, when you choose not to book direct and decide to give in to the tempting, so-called, money-saving travel agencies, you may have to pay hidden fees. The best part about our direct booking online is that our prices are plain and straightforward, and you can speak with a staff member during the reservation process if needed. If you find yourself blindsided by fees through that third-party platform, you'll end up having to speak with someone who is not directly associated with the hotel (which will be frustrating). We also feature specials each season, such as our Victorian Vacation package, which includes a two-night stay, breakfast, and dinner. Always check our Specials page for the absolute best rates guaranteed for your stay in Rehoboth Beach, Delaware!
2. Never Lose a Reservation
What do you imagine happens when you pass your information from one person to the next, to the next? It could get lost, that's what! Sometimes reservations get lost, and we'll let you in on a little secret: it happens more often than you'd think when don't book direct. When you arrive at your hotels in Rehoboth Beach, how upset would you be if your reservation wasn't there once you arrived? We can just about imagine. In addition to a lost reservation, what do you think happens when your reservation gets lost? Your information, including both your credit card and personal details, gets lost along with it. When you book direct, you will never have to worry about your reservation disappearing. Period.
3. Better Rooms and Service
Sometimes when you opt to book your stay near the Rehoboth boardwalk through a third-party platform, you'll find yourself stuck in a room in a location that may not be your favorite. You won't get that oceanfront front suite you wanted, or perhaps you'll be next to the noisy ice machine. When you speak with our staff directly, you'll be able to inquire about the amenities in each room, room location options, and the floor you'd like to be on. Those travel agency websites don't allow you to modify your reservation whatsoever once you've booked. So, if you end up booking a room that's less than desirable, you're stuck with it for your whole vacation.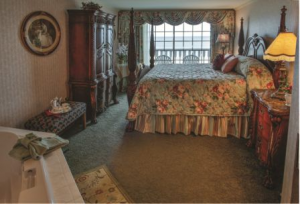 Direct Booking Online Made Simple
The Boardwalk Plaza Hotel keeps the reservation process as stress-free and simple as possible with our Book Now button for direct booking online. We encourage you to head to our Specials page to see what package will fit your individual needs. The Victorian Vacation package will allow you to select different accommodations so that your stay is a comfortable one. If you happen to Military, Corporate, AARP, and AAA rates need to be booked with the front desk directly. Please call 1-800-33-BEACH or 1-302-227-7169 and have your ID number ready!