Family-Friendly Activities in Rehoboth Beach

There's no time like the present to have one last weekend getaway to Boardwalk Plaza Hotel. Bring the entire family along as there are so many kid-friendly activities in Rehoboth Beach. The holidays are just around the corner, which means soon you'll be too busy shopping for the holidays and planning all of your family get-togethers. Why not take time to relax before the hustle and bustle of the upcoming holiday season. Hit the ground running at your family get-togethers with conversations of how you discovered your new favorite ice cream on the Rehoboth Boardwalk. With so many things to do in Rehoboth Beach, you'll be sure to make your relatives envious of your time spent at our oceanfront hotel!
The Ice Cream Store
With over 70 unique flavors of rich, creamy goodness, there's always something new to be discovered at The Ice Cream Store on the Rehoboth Boardwalk. You can't help but smile at the flavor names like I Don't Give a Fork, Ask Me About Your Dog, Dark Side of the Spoon, and My Milkshake Brings All the Boys to the Shore among many, many others. You'll find flavors that incorporate pumpkin, pop rocks, bacon, coca-cola syrup, crushed pineapple, girl scout cookies, nutella and even a spicy option created with Ghost Pepper! With every flavor under the sun, be sure to add a stop to this local ice cream shop on your list of things to do in Rehoboth Beach.
Axxiom Escape Rooms
Your heart will begin to race as you try to beat the clock by solving riddles, search for clues and discover hidden items to unlock the door and escape the room at Axxiom Escape Rooms. When you're looking for family activities in Rehoboth Beach, try an escape room experience. You'll be able to work together and build connections with your family like never before. There's a variety of themed rooms from like Shawshank, Sherlock Holmes, Hogwarts and more. Enjoy a unique experience while at our Rehoboth beachfront hotels— you'll be glad you did!
Beach Arcade
When you're looking to save a buck on family vacations before the holidays stop into the Beach Arcade on the Rehoboth Boardwalk. You'll find a variety of fun arcade games, virtual reality games, and of course their infamous 10-cent Skee Ball game! Play games for tickets and when you're finished, turn them in for a fantastic prize. There are games for adults and children, so even parents will have a wonderful time. The arcade is family owned and operated and has been around for over 25 years. When you're looking for fun things to do in Rehoboth Beach, challenge your family to a game or two at the arcade!
Oceanfront Hotels in Delaware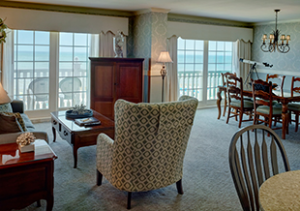 Luckily, you won't have to drive to have an amazing time with your family. The Rehoboth Boardwalk has a variety of restaurants, attractions, and entertainment to enjoy throughout your stay. Not only do we provide hotel accommodations, but we also have two-bedroom apartments that have an oceanfront view on the corner of the hotel. The apartment options feature a dining room, a fully equipped kitchen, and a living room which will be perfect for your family! Take a look through our Boardwalk Plaza Hotel accommodations to see what best suits your stay! Please give us a call at 1-800-33-BEACH or 1-302-227-7169.